Safe Kids Palm Beach County never stopped helping local families
Kathy Wall started her new job as director of Safe Kids Palm Beach County with a plan. That plan lasted only a few hours into her first day because of the COVID-19 pandemic.
Two days later, Wall and her team were working from home, unable to deliver car seats or do car seat safety check-ups. And while Safe Kids Palm Beach County may be best known for its car seat safety program, the non-profit group also works to raises awareness on how to prevent all types of unintentional childhood injuries. Safe Kids Palm Beach County is a program of Community Partners of South Florida and funded by Children's Services Council of Palm Beach County.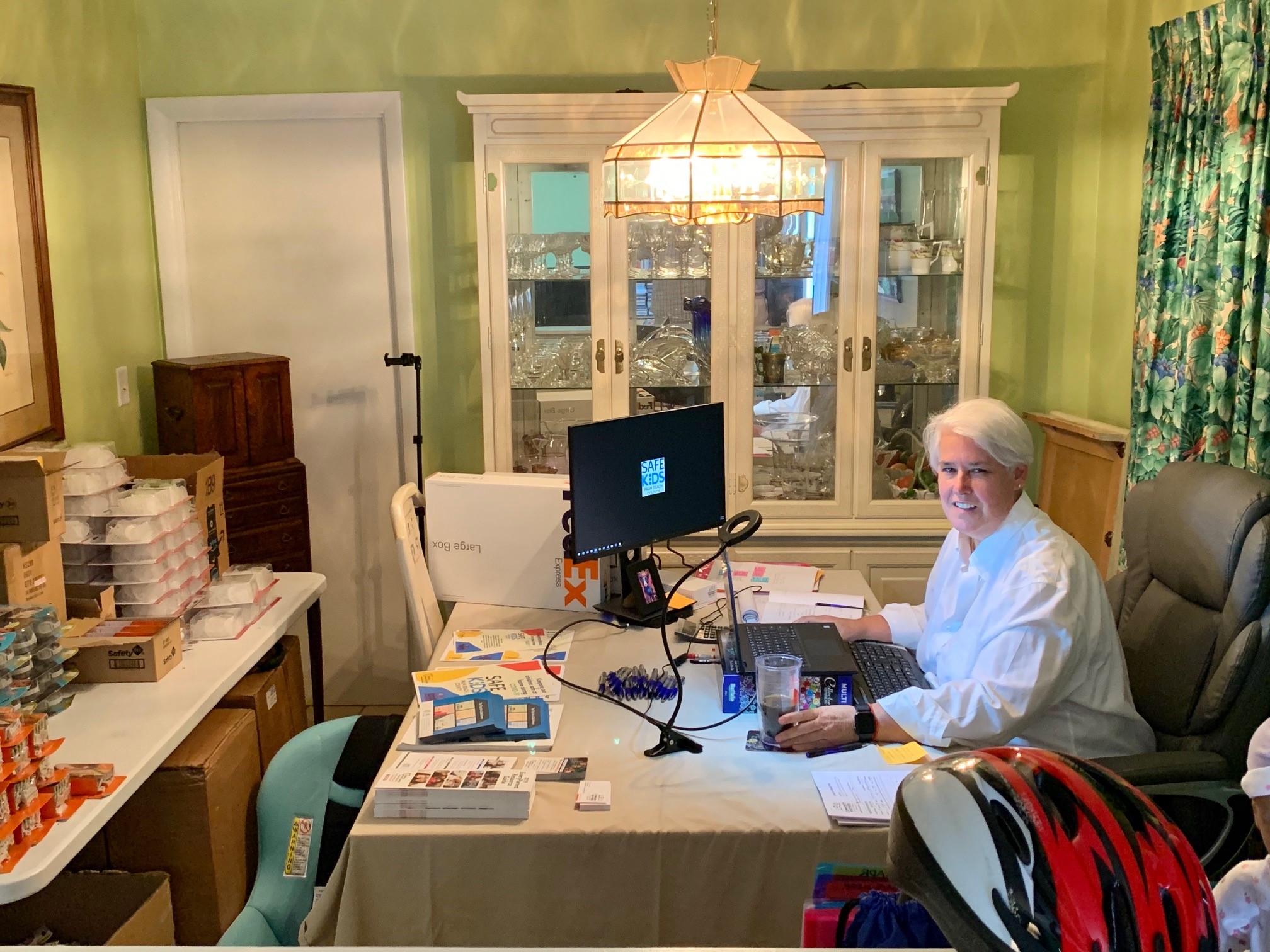 Wall didn't simply start working from her home, though. She has transformed her home into Safe Kids Palm Beach County's unofficial headquarters as it continues to serve local families. She described what the last five months have been like:
"My first day was March 16 and that was the day that everything began to change. We had to stop all car seat deliveries and installations. We had to start working remotely officially on the 18th. We had about a day and a half to put together work remote plans, get all the materials that we would need to work from home and put together a plan to keep moving forward.
"We are now doing virtual car seat installs. That requires the family doing some homework before they install. We have to get some liability waivers signed and then we actually work with them online, whether it's WhatsApp or Zoom or Facebook Messenger. We do a live video feed and work with families to do a car seat check to be sure that the child is fitted in the car seat correctly and the car seat is installed in the car correctly. We've done about 40 virtual installs with our many partners who do car seats with us.
"Normally when we order materials, they go straight to the warehouse or the office. Now we've changed all that so it comes to my home address. All the supplies come here. We have home safety materials. We have helmet safety. We have our work on heatstroke and safe sleep. For our home safety projects, we are working with families with young children and getting out supplies. Parents are home. They are distracted. Kids are in the house all day. The home safety kits have electrical outlet covers, furniture cover guards, toilet locks, a couple different kind of cabinet and drawer locks. We also have door alarms that chime so they know if a child has gone outside. That's for water safety.
"We have 24 home safety kits going out to families who have babies under six months old. They are also getting safe sleep sacks. All of those families participated in our safe sleep Zoom presentations. We had about 175 people log into them and more than 2,500 Facebook Live views with sessions in English, Spanish and Creole.
"The first few weeks I had some things in the dining room. About a few weeks into (the shutdown), I realize that I had to set up a small desk in the living room to work from there. Then a few weeks ago, it finally took over the whole dining room. I just took down the pack n' play crib. I have two car seats out. I have the (standing) temperature display set up in the living room. It looks really nice there.
"Our work doesn't stop because we are at home. We have to keep getting the message out."
About Healthy, Safe, Strong Stories
Throughout the COVID-19 pandemic, Children's Services Council of Palm Beach County continues to serve local children and families with the same mission that's motivated us since 1986: to keep our county's children healthy, safe and strong. This #HealthySafeStrong series highlights the vital work our providers are doing, and reminds Palm Beach County families that Children's Services Council is here for you. To contact Children's Services Council, please click here.